Commercial Turf Services
Turf Central offers 2 main turf varieties suitable for commercial projects.  Wintergreen  Couch is our most popular commercial turf variety. It's perfect for larger projects, such as parks, recreation facilities, sports fields, fairways and footpaths.
Also on offer is Sir Walter, Australia's no. 1 buffalo lawn and a great all round quality turf. Perfect to use on large residential projects where quality is the key to your project.
We'll work with you to decide which is the best choice of turf for your project.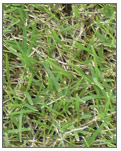 Wintergreen Couch
Wintergreen Couch is our basic lawn variety. It's perfect for larger projects where budget is key but a quality finish is still required.
Sir Walter, Australia's no. 1 Buffalo Lawn
A soft leaf buffalo lawn, Sir Walter is the market leader and Australia's first choice for home lawn and other projects. Thanks to Sir Walter's shade tolerant properties it's the perfect lawn solution for new build projects or established gardens where shade can be an issue for other lawn varieties.
Sir Walter is the perfect all rounder, striving in both sun and shade. A hardy lawn, but soft to the touch making it the perfect choice to give your project that quality finish.
TURF Central are proud suppliers of
 Sir Walter, Australia's no.1 buffalo lawn